Wayne's Testimony
A life given over to reckless behaviors fueled by the pain and rejection of the past becomes an incredible story of redemption, the power of choice, and the unstoppable love of Jesus Christ.
Now In Stock & Ready to Ship!
An intelligent, loving response to the widely distributed book "Guiding Families of LGBT+ Loved ones". With Wayne's line-by-line analysis and 19 incredible testimonies affirming the power of choice and God's perfect plan for human happiness!
Articles By Wayne
For many years the doors of the church seemed buckled down when it came to "homosexuality" and "same-sex attraction", it was whispered about. I've even heard from some who said…
Welcome to Know His Love Ministries
After nearly forty years of living openly as a gay man, Jesus convicted me that I had lived for self instead of for Him. Today I seek to do His will instead of my own and write and speak around the world and make featured appearances on television stations such 3 Angels Broadcasting Network, The Dare to Dream Network, and The Light Channel Denmark where I share about what God has done in my life and what He promises to do for all who choose to believe in Him and His all-consuming power.
endorsements
Supporting Ministers, Churches, and Individuals 
Wayne Blakely does an excellent job of remaining faithful to the bible, pointing out the sin, but also pointing people to Jesus, who is the solution to all sin. Wayne's gospel oriented message is that when we surrender completely to God, the Holy Spirit will restore...
In the past six months, I have had the opportunity to attend two separate presentations given by Wayne  Blakely. My impressions are as follows. First, I very much appreciated Wayne's humility. He is not on a band wagon, not an activist, and not in your face...
In an age when self-indulgence is celebrated and defended through political correctness, Wayne Blakely lives and speaks a message of self-denial that leads every audience to the foot of the cross, and to new life in Christ. I have personally been touched by the...
Support Our Message of Redemption & Restoration
Know His Love Ministries is a 501c3 Non-Profit Organization, which will provide you with a receipt for your deeply valued and appreciated contribution. Giving online is easy, secure, processed by PayPal one of the most trusted names for online transactions.  Also please be sure to provide your mailing information when donating. Thank you and God's blessings to you.
The Power of Choice
Our new tract is back from the printer and ready ship. These are in standard "Glow" Tract size and perfect for church literature racks and sharing.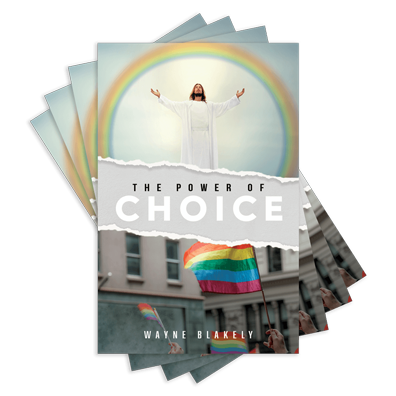 Come join us
Recent Events
Ridgefield, Washington
Feb 8, 2020 @ 11:00AM
Whipple Creek Adventist Church
Wayne will be sharing his presentation titled "Shaken to the Foundation for the morning service and will be available for questions.
Mentone, California
Feb 21, 2020 @ 7:00PM
Mentone SDA Church
If you in Loma Linda, San Bernardino, Redlands or Riverside, California come join us for 3 presentations and a time for Q&A.
Shawnee, Kansas
feb 29, 2020 @ 9:30AM
Chapel Oaks Adventist Church
Presentations include "Born That Way?" "Shaken To The Foundation" and "Journey Interrupted," with a Q&A to follow.